This is a description of the church of our Souhrada ancestors taken from the archives of this church in Záhoří, Czech Republic. When Viola Souhrada Noska was in the Czech Republic to celebrate the First Souhrada Family Reunion in that country she purchased this copy to share with our Souhrada family here in the U.S.A.
The church in Záhoří was first mentioned in the years 1352-1354, when King Charles IV donated it to the order of the Knights of the Cross with the Red Star in Pisek. But the donation was not accepted, and so from the year 1356 the priests of the church in Záhoří were nominated by the kings of Bohemia.
In the 15th century, in the time of the Hussite wars, villagers accepted the faith of Utraquists.
After 1620, when emperor Ferdinand II won in the battle at White Mountain, priests - Utraquists were outlawed and people converted to the Catholic faith.
During the Swedish wars in 1639, both the church and the priest's house in Záhoří were burned and destroyed.
In 1689 the church and the priest's house were rebuilt. This rebuilding was realized from the clerical incomes. The impressive, separately standing bell tower with richly profiled ledge originates from that time, too.
The tower was finished in 1768.
---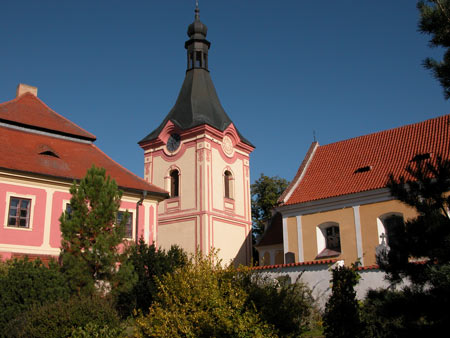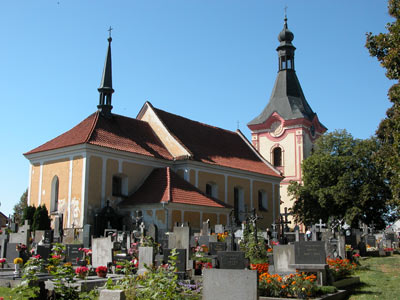 St. Michael's the Archangel – (pictures taken in 2006)
---
Interior of the church
The oldest part of the church - presbytery - is from the 14th century, the baroque nave from the second half of the 17th century. There are three altars in the church which have been there from the first half of the 18th century:
- High altar of St Michael-the Archangel with statues of archangels Gabriel and Raphael
- Altar of Virgin Mary / on the left side of the nave
- Altar of St Joseph / on the right side of the nave
Clerical administration
Many priests - both of holy order and of dioceses- worked in the church during 700 years of its existence.
- Knights of the Cross with the Red Star
- Dominicans from the Pisek Monastery /1640 - 1663/
- Carmelites
- Petrines
Patronage
Among the patrons of the church in Záhoří there were prominent noble families:
- the Svamberks
- the Rozmberks
- the Schwarzenbergs
Main fete
First Sunday after the celebration of St. Michael the Archangel
---
---